As long as your health policy is in effect, you can talk to specialist doctors unlimited over Bi'Doktora Sor platform, enjoy online medical assistance without spending your policy benefits.
You can reach out to our application by calling our Customer Services or via MAPFRE GO
Genel Servis Repair Shops are at your service in case of claims!

Fitch affirms MAPFRE Sigorta's 'Stable and Strong' position!
Online Transactions are on MAPFRE GO with a Single Click!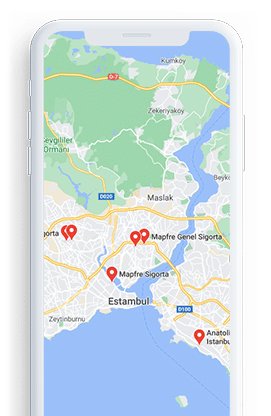 You May Reach Our Agencies Wherever
You Are!
Find the product that suits you
Your Loved Ones Deserve,
A Safe Home:
Earthquake Insurance
Enjoy Additional Services with your Casco Insurance!
Your Digital Assistant MAFFİ is Waiting to
Meet You!